Who is Dr. Brown and Why Spend so Much Time on Him?
<![if !vml]>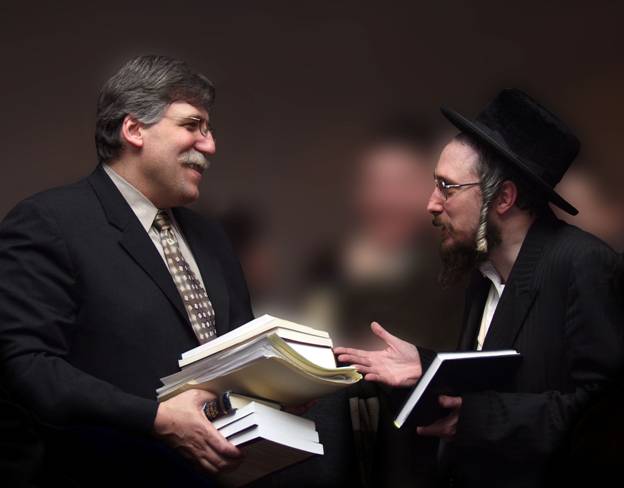 <![endif]>
Dr Michael Brown and Rabbi Moshe Shulman
discussing after one of Dr. Brown's debates.
There have been many works written by Christians to convince Jews to leave Judaism and adopt their false beliefs. Some of them have been better written and some worse. In our period of time, the fact is that there is no better example of this genre then the works of Dr. Brown. He has a number of qualities that makes him and his works attractive.
First there is Dr Brown himself. His biography and what he has accomplished. Dr. Brown has posted a short testimony telling what his life was like before he became a Christian. One important fact is that rather then going to a Bible college to pursue his Christian beliefs; he went to a legitimate University and received a degree. This gives him 'credentials' which one does not find for the other well known Jewish Christian missionaries. He has legitimate qualifications to be called a 'scholar'. Those who have met him personally (as I have) agree he is a very likeable person in person, which adds to his effectiveness. He speaks well and is articulate. While he can state his views in strong and somewhat abusive forms, he can also 'turn on the charm' in other venues.
Second, the nature and contents of his published works and lectures. His works are written in a manner that is scholarly and thorough. His style and the structure of his books are very effective. They seem to mirror his personality. He brings a number of common questions, but limits them in many ways. He has adapted his debating style to the printed word. This makes a strong impression on a reader. (It is also one of his big failings as in debates there is little time to check facts, or analyze his arguments. The written word, especially books, allows for close scrutiny.) All of these qualities are not to be found in the works of other Jewish Christian missionaries. For that reason what he writes and says is picked up by other missionaries to be used with unsuspecting Jews.
Finally he is highly regarded in the Christian world and Jewish Christian circles. He is highly respected among Jewish Christians for the materials he produces, even in those circles of the Messianic movement which do not agree with his thoroughly Christian outlook. As an example of the respect he has. Let me just quote from what fellow Jewish Christians and Christians have to say about him. These quotes all appear on the back covers of his books:
"Michael Brown's thinking is incisive and to the point. His ability to explain so that anyone can understand is amazing. He will surely be acclaimed as the new expert in Jewish Christian apologetics. I would be happy to recommend his much needed book to anyone." Moishe Rosen, founder, Jews for Jesus.
"There is no other contemporary resource like this, and it will no doubt be useful in countering not just Jewish objections but the objections of so many other skeptics and naysayers of the New testament." David Brickner, executive director, Jews for Jesus.
"We desperately need this book." Sid Roth, founder and president, Messianic Vision.
"This is a wonderful resource for study of the relationship between Christianity and Judaism." Darrell Bock, research professor of New Testament studies and professor of spiritual development and culture, Dallas Theological Seminary.
"Michael Brown's work in the area of Jewish Apologetics is the most thorough and penetrating I have seen. There is no doubt in my mind that this work will make a major contribution to the ongoing discussion and will, in fact, set the standard in the field." Richard Averbeck, associate professor, Old Testament and Semitic Languages, Trinity Evangelical Divinity School.
"Michael Brown excels as a true scholar as well as an apologist; his answers to objections are carefully thought out, honest and well researched. His work provides a useful model for how to do apologetics, not only in dialogue with the traditional Jewish community but for all who are interested in articulating and defending Christian faith." Craig Keener, professor of New Testament, Palmer Theological Seminary of Eastern University.
"Michael Brown has established himself as the foremost messianic apologist in the world. This volume deals with that most vital and controversial area of messianic prophecy objections. Is Jesus really the promised Messiah? All three volumes exhibit Dr. Brown's unique contribution to Jewish missions: biblical accuracy, Jewish sensitivity, and personal compassion." Dr. Barry R. Leventhal, Academic dean and professor, Southern Evangelical Seminary.
For these reasons and more I have found it of value to produce this material dealing with his writings. A careful reading of it will provide not just challenges to what he has written but a methodology in approaching any of his works.